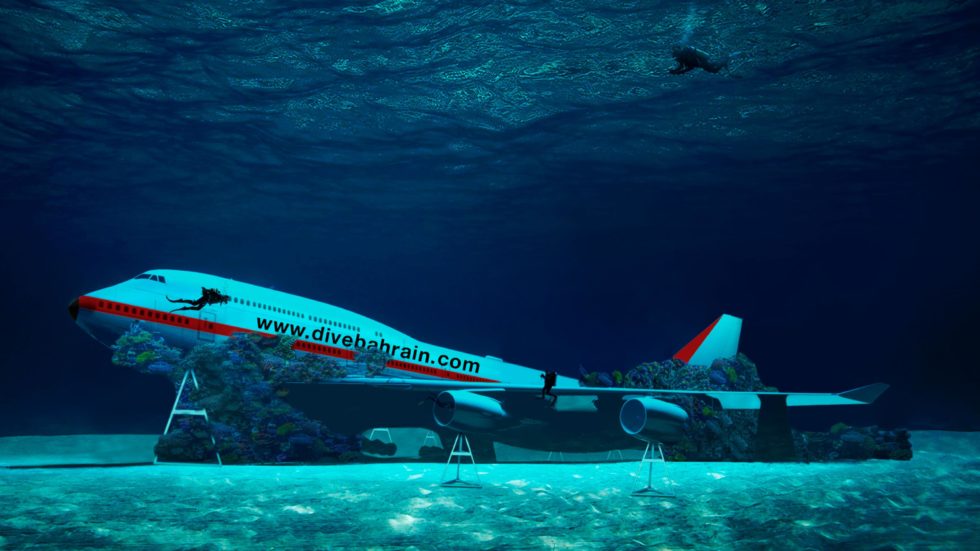 Bahrajn w Zatoce Perskiej ma nadzieję przyciągnąć nurków z całego świata dzięki nowemu "podwodnemu parkowi rozrywki" – rozległemu miejscu do nurkowania o powierzchni 100 000 metrów kwadratowych. Największą atrakcją tego podwodnego lunaparku będzie zatopiony Boeing 747.
Całkowite obumarcie raf koralowych to już nie fantastyka naukowa, a realne zagrożenie. Oprócz nieodwracalnych zmian w ekosystemie, zjawisko dotyka też turystykę na całym świecie. Odpowiedzią mają być parki rozrywki ze sztucznymi rafami koralowymi. Największy z nich już w tym roku ma zostać otwarty w Bahrajnie.
Zapowiadane za pośrednictwem państwowej agencji prasowej Bahrajnu miejsce nurkowania wyposażone będzie w liczne rzeźby artystyczne i sztuczne rafy koralowe, które z czasem mają obrosnąć podwodną roślinnością. Organizatorzy twierdzą, że nowa atrakcja w Bahrajnie ma wspomagać rozwój życia morskiego i być przyjazna dla środowiska. Jednak wśród naukowców zdania na ten temat są podzielone.
Eko, czy nie eko?
Z jednej strony sztuczne rafy zapewniają strukturę morskim organizmom. Problem jednak w tym, że materiały, których używa się do ich konstruowania, a także te występujące w zatopionym samolocie –  stopy miedzi, aluminium, ołów i stal – mogą podlegać korozji i oddziaływać na otaczające organizmy morskie. Do tego korozja może stać się zagrożeniem dla bezpieczeństwa odwiedzających podwodny park nurków. Agencja Turystyki Bahrajnu bardzo szybko odpowiedziała na te zarzuty, zapewniając, że ​​samolot zostanie specjalnie przygotowany, zanim zostanie opuszczony do wody. Usunięte zostaną wszystkie przewody z układów hydraulicznych, pneumatycznych i paliwowych oraz wszystkie izolacje, tworzywa sztuczne i inne potencjalnie toksyczne substancje.
Atrakcje parku wodnego
Zatopiony Boeing 747 ma być flagową atrakcją parku. 70-metrowy samolot to wycofany ze służby, specjalnie przygotowany samolot. Podwodny projekt jest efektem partnerstwa między Najwyższą Radą ds. Środowiska, Urzędem Turystyki Bahrajnu, a prywatnymi inwestorami. Będzie można go zwiedzać zarówno od zewnątrz, jak i od środka. Pod wodą znajdziemy również wierną replikę domu kupca perłowego Bahrajnu – w pełni umeblowaną i udekorowaną. Po kilku latach, obrastająca go roślinność ma nadać mu post-apokaliptyczny wygląd.