W Warszawie stanęły dwa pierwsze recyklomaty. Służą one do selektywnej zbiórki odpadów, za którą rozdają punkty. Następnie punkty te można wymienić na kawę lub bilety do kina.
Na warszawskich ulicach pojawiły się recyklomaty. Wszystko po to, aby zachęcić ludzi do recyklingu i do nawyków o dbanie o środowisko. Za oddanie użytych opakowań, mieszkańcy Warszawy są nagradzani. To pierwsza taka inicjatywa w Polsce.
Segregacja odpadów
Temat segregacji odpadów poruszany jest w Polsce co jakiś czas. Aktualnie wywóz niesegregowanych śmieci może być nawet czterokrotnie droższy od śmieci posegregowanych. Warto przyzwyczaić się do rozdzielania papieru od aluminium i szkła.
W wielu miastach, na osiedlach teoretycznie obowiązuje segregacja śmieci, ale dobrze wiemy, jak wygląda to w praktyce. Ciężko jest złapać za rękę mieszkańców, którzy nie trzymają się zasad narzuconych przez spółdzielnię lub wspólnotę, a zawsze znajdą się takie osoby, które stwierdzą, że nie muszą tego robić i czują się bezkarni.
"Maszyny motywacyjne". 
Stąd też pomysł na postawienie "maszyn motywacyjnych". Nic tak lepiej nie zachęci mieszkańców miast do recyklingu, jak nagrody i coś "za darmo". Maszyny zostały wyprodukowane przez polską firmę EcoTech System z siedzibą w Krakowie. Ta wspaniała inicjatywa to efekt współpracy miasta stołecznego Warszawa, fundacji Nasza Ziemia i Coca Cola.
Na razie recyklomaty pojawiły się w dwóch miejscach, w piątek 12 lipca:
na placu Bankowym
i przy ul. Ząbkowskiej.
Do końca roku w Warszawie ma pojawić się 10 recyklomatów, w takich miejscach, jak:
pole Mokotowskie,
plac Narutowicza,
okolice Urzędu Dzielnicy Ursynów,
Urzędu Dzielnicy Wilanów
oraz przy Białołęckim Ośrodku Kultury.
PRZECZYTAJ TAKŻE: Zdjęcia, które skłonią Cię do refleksji… Co robimy z naszą planetą?
Jak działają takie recyklomaty?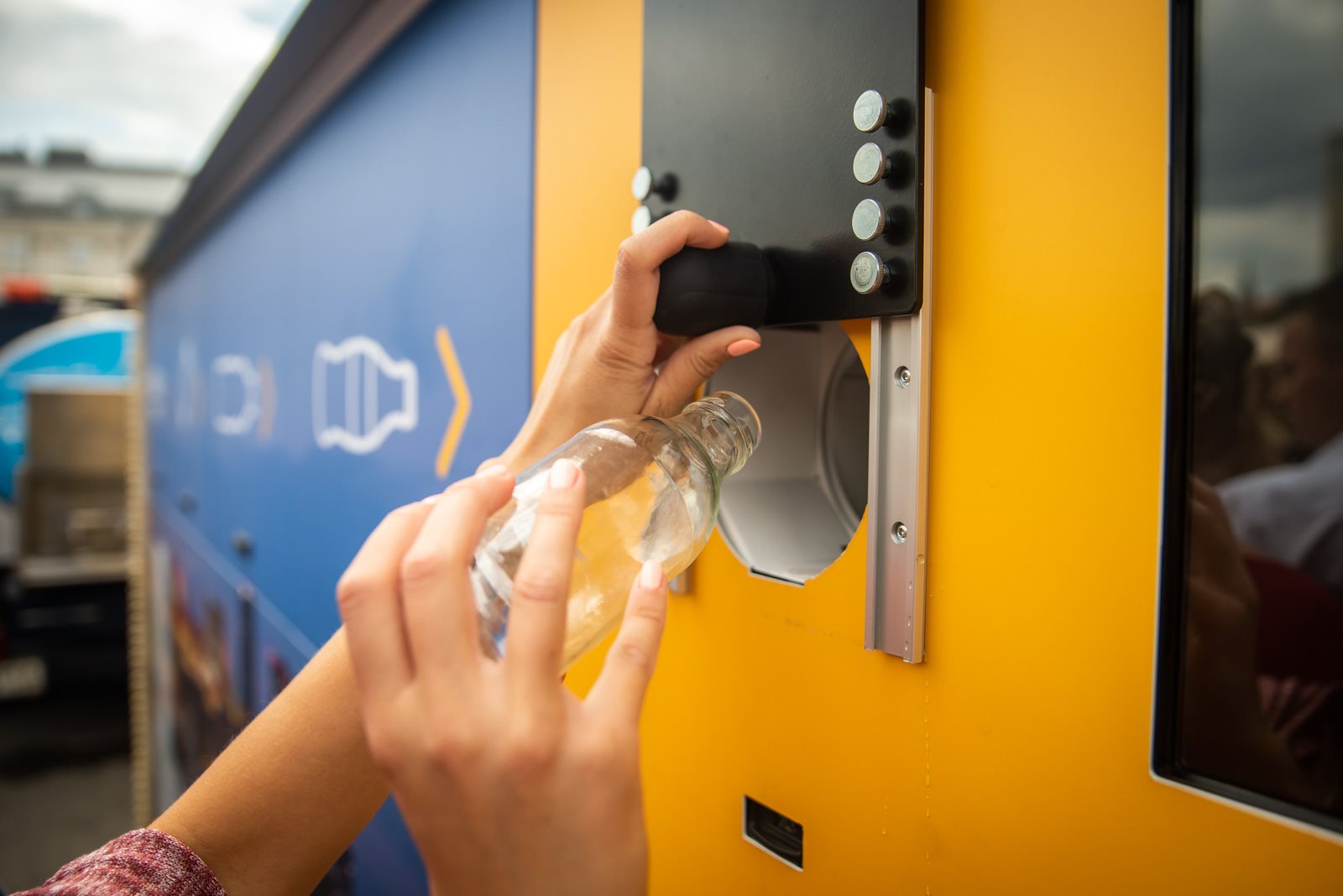 Zgodnie z informacjami na stronie internetowej, "system jest skutecznym i prospołecznym sposobem segregowania odpadów u źródła, co skutkuje zmianą zachowań i nawyków mieszkańców, a także ogólną świadomością z wykorzystaniem czynników motywacyjnych".
Wystarczy dostarczyć odpady nadające się do recyklingu, za które będą przyznawane punkty w aplikacji mobilnej. Aplikacja, służącą do zbierania ECO-punktów, jest dostępna w systemie Android (do pobrania tutaj) i iOS (do pobrania tutaj).
Zebrane punkty będzie można wymienić na zniżki na zakupy i bilety do kina. Surowce z recyklomatów trafią do recyklingu, gdzie zostaną przekształcone w nowe produkty. Proste, prawda?
"Przerwa techniczna, przepraszamy".
Maszyny do recyklingu wzbudziły duże zainteresowanie wśród mieszkańców. Tak duże, że po pojawieniu się recyklomatów, jeden z nich – ten w centrum – już następnego dnia był wyłączony. Na przodzie maszyny była przyklejona karta z napisem: "Przerwa techniczna, przepraszamy".
Butelkomat na #plażaRafała. Chyba coś poszło nie tak. pic.twitter.com/kNfygSgmzZ

— Monika Sobczak (@Monika__Sobczak) July 14, 2019
Co dalej z automatem na placu Bankowym?
Jak możemy przeczytać na stronie um.warszawa: "Recyklomat, który stanął przy pl. Bankowym wymaga wymiany uszkodzonej części, która skanując rozpoznaje odpady – szkło, plastik czy aluminium. Awaria jest wynikiem aktu wandalizmu – mimo komunikatu ostrzegawczego, wyświetlanego na maszynie, użytkownicy dokładali do komory zgniecione butelki".
Instrukcja:
Według instrukcji i podawanych komunikatów, do maszyn można wrzucać plastikowe i szklane butelki oraz aluminiowe puszki. Butelki oraz puszki powinny być w pierwotnym kształcie w momencie oddawania ich do recyklomatu. Jeżeli jakiś produkt nie kwalifikuje się do przyjęcia, zostanie zwrócony przez urządzenie.
Jesteś z Warszawy? Koniecznie odwiedź f7warszawa.pl
Jesteś z Krakowa? Koniecznie odwiedź f7krakow
Jesteś z Gdańska? Koniecznie odwiedź f7gdansk.pl
Jesteś z Poznania? Koniecznie odwiedź f7poznan.pl
Jesteś z Łodzi? Koniecznie odwiedź f7lodz.pl
Jesteś z Wrocławia? Koniecznie odwiedź f7wroclaw.pl