Ludzie wracają do natury i coraz częściej za nią tęsknią. Tak jak zabetonowaliśmy miasta, tak teraz rozumiemy, że życie to tylko kontakt z naturą, z zielenią. Dlatego powstaje coraz więcej parków i terenów zielonych. I choć nie jest to jeszcze trend, wkrótce będzie, nawet z innowacjami architektonicznymi.
W Stambule (Turcja) powstanie park ze ścieżkami między wierzchołkami drzew. Będzie można spacerować wśród drzew, podziwiać piękne krajobrazy i wdychać świeże powietrze. Chętnych do spacerowania na pewno nie zabraknie.
Park ten będzie miał także huśtawki i hamaki, aby móc odpocząć kilka metrów nad ziemią.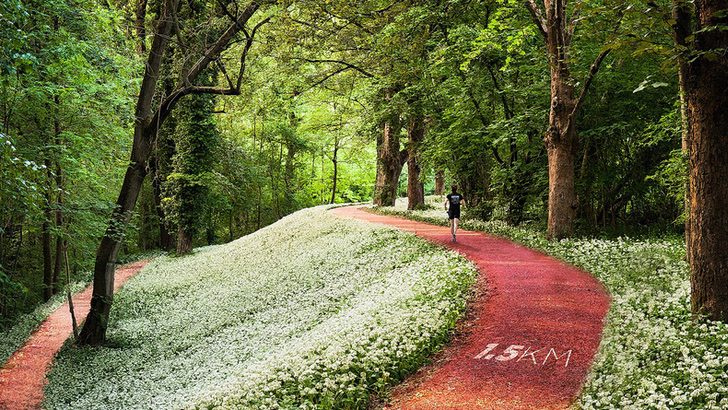 Wiele miast na świecie boryka się z problemem braku zieleni. Oczywiście tworzone są parki i tereny zielone, ale część miast jest tak zalana betonem, że aż żal patrzeć.
Stambuł jest jednym z takich miast i ze względu na brak miejsc do założenia parku, władze postanowiły stworzyć go wysoko ponad koronami drzew, aby wykorzystać przestrzeń i zapewnić spacerowiczom wspaniałe wrażenia.
Przemieszczanie się z ziemi do nieba oznacza zmianę sposobu myślenia o architekturze. To będzie prawdopodobnie pierwszy park "w powietrzu" na świecie, który niewątpliwie będzie doświadczeniem, o którym niewielu zapomni.
Czytaj: Wystarczy 20-minutowy kontakt z naturą, aby obniżyć poziom stresu
Turecka firma Bilgili Holding jest odpowiedzialna za projekt parku. Zespół technologiczny Dror był odpowiedzialny za uchwycenie pomysłu wraz z korytarzami w powietrzu.
Park powstanie 9,6 km od centrum Stambułu i będzie składał się z kilku obszarów, które wygenerują wyjątkowe wrażenia.
Będzie miejsce na odpoczynek przy wejściu do parku, potem będzie obszar zwany "Pętlą", w którym na szczycie parku będą huśtawki i hamaki.
Pojawią się również szlaki, które całkowicie otoczą drzewa. Wszystko to powstanie w ciągu najbliższych kilku miesięcy, kiedy firma budowlana opracuje plan działania.
Źródło i zdjęcia: inspiringlife.pt
Czytaj: Wieża widokowa w Krynicy-Zdrój zachwyca turystów. Pochwał nie ma końca!